Rivals100 CB Terrance Brooks flips from Ohio State to Texas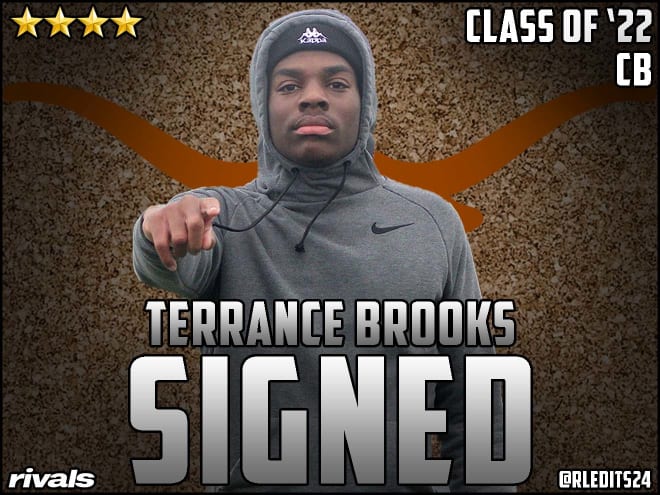 'Tis the season for commitments and no team has been generating more of a stir entering the Early Signing Window than the Longhorns. As signing day ceremonies got underway around the country, Texas made another splash on the trail.
Terrance Brooks, a Rivals100 cornerback from Little Elm (Texas), flipped his commitment from Ohio State to Texas. He inked with the Longhorns, who over the past week have sealed commitments from former five-star quarterback Quinn Ewers; top-rated offensive tackle Kelvin Banks and Rivals250 lineman Neto Umeozulu. Like Brooks, all of the recent wins for the Horns are homegrown products heading to Austin.
Brooks pledged to Ohio State over Alabama and Texas over the summer after landing an offer from the Buckeyes staff and quickly making a visit up to Columbus. He joins a defensive back haul in 2022 that features four-stars Bryan Allen, Austin Jordan and Jaylon Guilbeau.
"After two and a half years of recruiting, it's been exciting; it's been eventful and sometimes exhausting, this process finally came to a climax," Chet Brooks, Terrance's father, told Rivals.
"I can't wait to see what my pup's next chapter at Texas looks like, especially after closing out what I consider to be a great high school chapter. However, he still isn't the best DB in the house."
"Yet," he laughed.
While Ohio State was the choice early on, the Longhorns gained favor with perseverance and a plan.
"He prioritized scheme fit, position development, and the opportunity to compete for a spot as a true freshman," Brooks said of how Texas closed strong.
Brooks -- the nation's No. 49 overall player and the No. 8-ranked cornerback in the country, is a top-10 prospect in Texas regardless of position. Brooks' father played for Texas A&M. Alabama was the favorite entering June and both Florida and Texas certainly intrigued the 6-foot, 190-pounder before he picked the Buckeyes in June. Defensive backs coach Terry Joseph and head coach Steve Sarkisian spearheaded the efforts for the Longhorns to gain back ground after Brooks pledged out-of-state.
Curley Hallman, who recruited Chet Brooks coming out of high school, told his former recruit that the fruit doesn't fall far the tree.
"The fruit is faster," Brooks laughed. "He has elite speed and he has a high IQ for a 16-year-old. He loves the game and plays it with a certain passion. He loves to be the best at the position he plays. He has a work ethic and a humble through all this process, especially in this day and age."
"He's been a blessing and it's been so enjoyable," he said. "He's a solid football player. He can tackle, cover and he wants to be better; he wants to be coached hard and he's looking to be challenged."