Rivals250 OT Savion Byrd signs with Oklahoma
THE SITUATION
After exploring and giving serious considerations a trio of schools, Rivals250 offensive tackle Savion Byrd is heading to Oklahoma.
Byrd, the nation's No. 16-ranked offensive tackle, pledged and signed with the Sooners , who landed the nation's No. 114 overall player in the Class of 2021.
Early on, Byrd's focus was on SMU and Texas with frequent mentions of programs such as LSU and Oklahoma. The blue-chip offensive lineman made his first visits out to Norman, Okla. on self-guided tours and the Sooner Summit amid the CoVid-19 pandemic. He compared and contrasted those player-led trips with an abundance of experience on the Hill Top, including a handful of games this past season.
"They talk about opportunity. It's a huge opportunity to come in and play for Coach B (Bill Bedenbaugh). My first time seeing Oklahoma ... I was in love. I can't lie. The stadium is big, the university is big .. It was like being in a movie. I had never seen anything like it."," Byrd told Rivals this year when he narrowed his focus down to three teams, including the Sooners.
In the end, the opportunities in Norman, Okla., led him to leaving what was familiar and already known
RIVALS REACTION
Byrd was an All-District selection at left tackle for Duncanville as a sophomore back in 2018. After a year battling on the other side of the ball along the defensive line, a thinner 6-foot-6, 315-pound version of Byrd has returned to form anchoring what is arguably the most talented offensive line in the state of Texas.
Byrd brings athleticism and nimble feet to the offensive tackle position, which are rare and, of course, coveted attributes for the lineman responsible for protecting a quarterback's blindside. Byrd has excellent feet and is light on them, capable of dropping back in pass protection and keeping edge-rushers at length with his wingspan, powerful lower half and ability to formulate a pocket.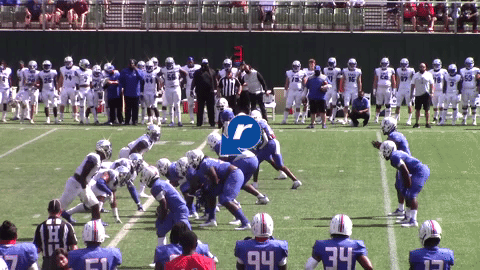 After taking a year away from offensive tackle and shifting his attention onto helping Duncanville out with depth on the defensive line, Byrd needed little time to find a rhythm as a physical blocker. He remains a powerful hitter that plays with a nasty demeanor and is capable of throwing defenders to the turf.
Consistency remains a key area for Byrd. When he's able to lock in his hands and get full arm extension, Byrd is rock-solid in pass-pro. However, his hand placement needs improvement, but is a key ingredient to Byrd's success as a blocker. His upside is enormous.
The fact that Byrd was able to play defensive line and seamlessly transitioned back to offensive tackle should be applauded. He's extremely athletic for the position and it showed a good deal as a sophomore when he was asked to pull from the left tackle position and clear paths for former teammate Ja'Quinden Jackson to navigate around the edge.
Byrd, with his aggressive demeanor and athleticism, is exceptional blocking in space and can effectively seal the edge in the run game and as a senior, has flashed potential being able to make blocks at multiple layers of the defense