Transfer Tracker: Mississippi State QB Keytaon Thompson enters the portal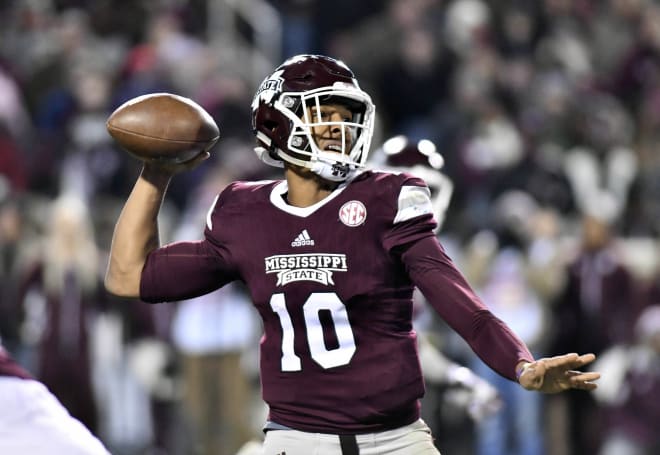 The Transfer Portal has changed the landscape of college football. So at Rivals we bring you the Transfer Tracker, where we analyze players entering the portal and rate them on what kind of impact they could make at their new home.
Next up in the tracker: Mississippi State quarterback Keytaon Thompson.
AS A RECRUIT
AT MISSISSIPPI STATE
Thompson saw spot playing time as a freshman, appearing in 10 games and throwing for 388 yards and rushing for another 446 yards. He started Week 1 of the 2018 season with then-starterNick Fitzgerald suspended and tied a school record with seven total touchdowns. While he seemed destined to take over the reins this fall, things changed when graduate transferTommy Stevens joined the program after the spring and won the job. Thompson entered the portal briefly in August, only to withdraw his name and return to the Bulldogs. Even when Stevens went down with an injury, it was freshman Garrett Shrader that saw playing time instead of Thompson. Despite the firing of Joe Moorhead and a potential fresh start under Mike Leach, Thompson is once again in the portal. Thompson will have at least two years of eligibility remaining at his next school.
POTENTIAL LANDING SPOTS
LSU could make sense as a destination, especially since the Tigers will have a competition to replace Joe Burrow and Thompson is a Louisiana native. Thompson also has ties to Dan Mullen and Florida and while it doesn't seem like the Gators are in the market for a transfer quarterback, the fact that Thompson has two seasons left could make him an attractive option.
FARRELL'S TAKE
"Thompson has always had a live arm and athletic ability so he has potential at a new destination. His size, the experience he has against SEC teams and his overall skillset will allow him to push as a starter likely at a Group of Five program. However it's not out of the realm of possibility that he could start at the Power Five level as well." -- National Recruiting Director Mike Farrell
Impact Rating: 6.4 out of 10
IMPACT METER
The Transfer Portal continues to change the way college football programs recruit and mange their rosters so we here at Rivals.com continue to evolve our coverage. Each time a player of note enters the portal, we will examine their potential impact on the college football landscape and assign an impact rating, both when they enter the portal and when they choose a destination. The scale is from 1-10 and the description below explains the scoring scale.
1.1-4.0 — Not a big impact expected, likely a non-starter and down the bench depth player.
4.1- 6.0 — A solid impact can be expected in the right scenario and has the potential to battle for a starting job.
6.1-9.0. — A high impact player who won't change a program but will certainly be a very good contributor and starter.
9.1- 9.9 — A very high impact player who should start the moment he steps on the field and will change the outlook of a program immediately.
10 — A franchise transfer who has a chance to be an All American and one of the elite players in college football.