Transfer Tracker: UCLA QB Austin Burton commits to Purdue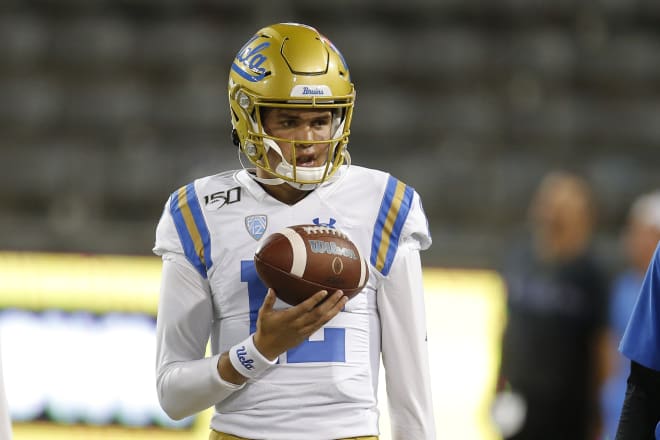 THE LATEST
Purdue is expected to have a heated competition for the starting quarterback position and the Boilermakers just added another arm to the mix. UCLA transfer Austin Burton committed to Purdue, he told Yahoo Sports! Pete Thamel on Monday, and will be immediately eligible to play in 2020, following his July graduation.
Burton was a three-star member of UCLA's 2017 signing class and has been primarily a backup, but did play in six games in 2019, including one start.
After being a backup for the past three seasons, Burton will look to win the starting job at Purdue as he competes with redshirt sophomore Jack Plummer, former walk-on Aidan O'Connell and incoming freshman signee Michael Alaimo. Plummer started six games last season after senior Elijah Sindelar was injured and O'Connell started three games in 2019.
AS A RECRUIT
Burton started his career in the Northeast and initially made a commitment to nearby Boston College during the summer following his junior year. But that pledge didn't last for long as he flipped to UCLA a little more than a month later. Burton finished up his high school career in Florida, playing his senior season in the Orlando area.
AT UCLA
Burton spent his first two seasons with the Bruins as a backup and didn't appear in a game. That changed in 2019, when he saw time in six games, including a start against Oregon State.
Burton was effective as a replacement for Dorian Thompson-Robinson, throwing for 365 yards and a touchdown while also completing nearly 69 percent of his passes. He also rushed 23 times for 100 yards and a touchdown.
FARRELL'S TAKE 
"Jeff Brohm does a really good job with quarterbacks and Purdue has a passer-friendly offense so Burton can use the experience he gained in the UCLA offense and make a run at putting some big numbers up in the Big 10. He's a smart quarterback and can read defenses well so this is a good fit with a former quarterback as his head coach." -- National Recruiting Director Mike Farrell
Impact Rating: 6.2 out of 10
IMPACT METER
The Transfer Portal continues to change the way college football programs recruit and mange their rosters so we here at Rivals.com continue to evolve our coverage. Each time a player of note enters the portal, we will examine their potential impact on the college football landscape and assign an impact rating, both when they enter the portal and when they choose a destination. The scale is from 1-10 and the description below explains the scoring scale.
1.1-4.0 — Not a big impact expected, likely a non-starter and down the bench depth player.
4.1- 6.0 — A solid impact can be expected in the right scenario and has the potential to battle for a starting job.
6.1-9.0. — A high impact player who won't change a program but will certainly be a very good contributor and starter.
9.1- 9.9 — A very high impact player who should start the moment he steps on the field and will change the outlook of a program immediately.
10 — A franchise transfer who has a chance to be an All American and one of the elite players in college football.